Family Weekend Ambassadors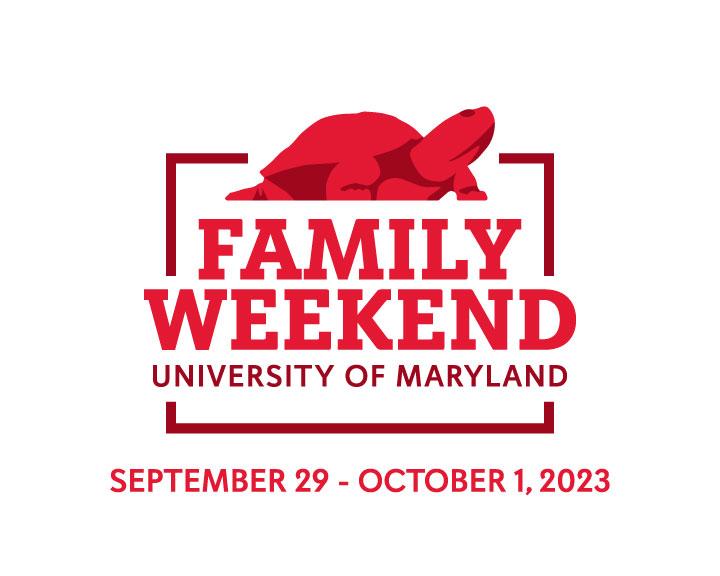 The Office of Family Engagement is seeking Terp-loving, enthusiastic, dynamic, and all-around awesome undergraduate students to serve as Family Weekend Ambassadors. This is a great short-term & paid leadership opportunity to help students and their families attending Family Weekend (plus earn a stipend and some Terp swag in the process)! Learn more about the Family Weekend Ambassador position and how to apply below.
Details about Family Weekend 2023, including the full schedule, are available on the Family Weekend website.
Before Family Weekend:

Staff training from 3-6 p.m. on Friday, September 22.

Registration preparation from 5-10 p.m. on Monday, September 25.

During Family Weekend:

Serve in multiple capacities from Friday, September 29, through Sunday, October 1. 

Participate in programs and events for families and students as needed to support Family Weekend. 

Serve as an ambassador of the Office of Family Engagement, the Division of Student Affairs, and the University of Maryland. 

Other duties as assigned.
Registered, undergraduate degree-seeking student at the University of Maryland, College Park.

Have completed at least 24 credit hours by July 2023.

Good academic standing.

Good judicial/conduct standing.

Excellent communication skills, prior experience in a team setting

 (t

horough knowledge of UMD preferred).

Be available for the entirety of Family Weekend.

Friday, September 29: 3 - 9 p.m. (we welcome all available staff beginning at noon)
Saturday, September 30: 8 a.m. - 4 p.m. (dependent on kickoff time)
Sunday, October 1: 11:30 a.m. - 2 p.m.

Submit online application by 11:59 p.m. on Monday, September 4.
$350 stipend immediately following Family Weekend; returning Family Weekend Ambassadors receive a $400 stipend.

Two UMD t-shirts as part of Friday and Saturday uniforms, plus other Terp swag.

​$35 Terrapin Express funds for meals on Friday evening, Saturday morning, and Saturday evening; other meals will be provided during Family Weekend events. Meals will also be provided during staff training (Sept. 22) and registration preparation (Sept. 25).
APPLY HERE

Applications are due by 11:59 p.m. on Monday, September 4, 2023.
When completing the application, be prepared to:
Confirm your availability

List employment/involvement information

Provide references

Respond to the following questions:

What characteristics do you possess that would make you a unique and beneficial addition to the Family Weekend Ambassador team?

Why do you think having a Family Weekend is important?

​What has been the best experience during your time at UMD thus far?

Have you previously attended Family Weekend? If yes, what were your impressions of the weekend?

Free Space (no word limit): Share with us anything about yourself and/or your personality that hasn't come through in the application so far and has nothing to do with being a Family Weekend Ambassador.
Responses to each essay question should be no more than 150 words and free of grammatical and spelling errors. It is a good idea to draft your responses in a word processing program (MS Word, Google Doc) and then copy and paste the content into the application. For assistance with the essay questions, we encourage you to utilize the UMD Writing Center.
Invitations to participate in one of two group interviews will be sent as applications are reviewed, but no later than Thursday, September 7, 2023. Group interviews will be held: 
Monday, September 11 from 5:30 - 8 p.m., and
Tuesday, September 12 from 5:30 - 8 p.m.
Attendance is required to be considered for the position.